AccuTracking Installation Guide - iPhone
---
---
NOTE: the tracking app needs to be running foreground all the time because iOS kills third party background apps.
As a general guideline, using a phone as tracking device is not as reliable as with a dedicated GPS tracking device, because the phone is by nature a "multi-purpose" device and the apps on the phone could interfere with the tracking app, for instance, the power management, the phone settings.
---
1. Install iPhone App
We support a couple of third-party iOS tracking client apps. These apps can be configured to report locations to our server, and you can view the real-time tracking data from our website.
From your iPhone, purchase and install the following app from App Store:
iTrackIT-Lite (developed and supported by http://www.itrackit.co.uk/)


Note: iTrackIT-Lite reports location every mile and you cannot change it. iTrackIT Pro version allows you to set update interval
---
2. Configure App
2.1). Enter the following info in the tracking client app settings:
Server: 23.23.180.168
IMEI: You can enter any unique number (digital only, no alphabets or special characters). You can use the full phone number or the actual IMEI number of the phone.
If the app has Username and Password setting, leave them blank. If the app has Port setting, enter 30175.
2.2). Go to https://secure.accutracking.com/signup.php to register (first week free trial). Then login into your account, on "Manage Units" page and click "Add a Unit" button:
Choose an easy to remember nickname for your phone;
Choose "Other tracking client" from "Unit type" dropdown;
In the "IMEI/ID" field, enter the *same* unique number you picked for IMEI in step 2.1) above (they have to exactly match!).
Click "Add" button.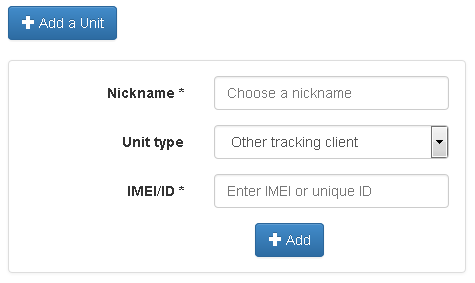 ---
3. Online Tracking
3.1). With the tracking app running on your phone, go to an open air place and wait a few minutes until it sends your locations.
3.2). Log into http://www.accutracking.com and click "Tracking". You will see the locations and history of your phone.
---
4. (Optional) Monitor phones from Google Earth
Please see here for how to track in Google Earth.
---
5. Troubleshooting
Please see our knowledgebase page for troubleshooting.